It has a perfect waterproof capability.
It prevents the leakage of raining water from the viewpoint of material and structure. 

There is great possibility of leakage of raining water. The cause of it is not just rain, but also fog, typhoon, and snow. The leaking of rain through roof may lead to the decay of roof, wall, foundation and pillar. Rain must be blocked completely. This product is made of special SMC to which water cannot penetrate. There is no water leakage at all. Also , it shows strong durability under salt damage or acid rain along the coastal area.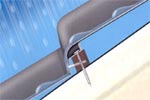 Structure : This product is a complete set made of resin. Its size is 7.5 larger than the existing type of tile. It has less junction points. With 20mm of vertical portions, leaking water on roof is eliminate.