Load on pillar is one-fourteenth. It protects a house from earthquake. Because it is made of special material with ultra-lightweight and strength capabilities, it has excellent durability against earthquake. As a result, a house has a long-life.

When a house is equipped with heavyweight roof to prevent roof from blown our by strong Wind, this heavy weight imposes massive load on pillars, influencing bad effect on the life of a house.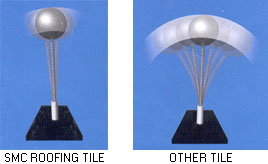 For example, the weight of roof with underlying mud is 7.5 t per 100 m². Furthermore, the fact that the weight of roof is heavy means that the height of the centroid is moved upward. Because it received strong rolling power at the time of earthquake, the risk of its destruction also become high. On the other hand this product is made of special SMC with lightweight and strong capabilities, which is usually used for the body of F1 and so on , Its weight is 538 kg per 100 m², which is one-fourteenth of Japanese traditional tile. Because the rolling power it received at the time of earthquake is very small the risk of its destruction is also quite low Due to the small load on pillars, a house also has a long-life.